Teams currently working in South Florida to assist victims of Hurricane Ian. Updates will be posted as information is provided from the team. Check out the video regarding this project from Rev. Greg Cruice:
February 23 update:
Disaster Relief … Now What?
The trailer has been delivered, supplies have been delivered to multiple churches for multiple projects … the question becomes, "Now what do we do?" It is very common that six months out from a disaster, the interest in the recovery wanes. Folks leading disaster recovery efforts find the six-month mark as a time when it becomes harder to get volunteers, tougher to complete projects, and the next tropical system seems just around the corner. Likely within the next six months, some areas of Florida will be dealing with another weather disaster!
At Mandarin Presbyterian, we made a commitment to collaborate with our brothers and sisters at Grace Church in Cape Coral, and the surrounding area. Our plans are to stay on course until one day, likely at least 18 months from now, the folks at Grace tell us their work is as complete as it can be. Regardless of what may happen somewhere else, we feel called to stay, and finish the work God tells us to complete!
So, what now? What do we do now?
First, let's thank all the folks who have made what we have done already possible.
Those who have given of their time building the trailer, and/or traveling to Cape Coral to serve: Tom Hughes, Pat Sullivan, Jerry Althouse, Emil Albertini, Jenny Ohayon, Pat Hardy, Beth Sullivan, Janet Elliot, Butch Elliot, Caleb Rigby, Garrett Rigby, Cody Rigby, Charles "Deuce" Garland, Craig Henderson, Devin Kelly, Doug Straatsma, Jeff Anderson, John Sutton, Mark Anderson, Palmer Bell, Vernon McDaniel, Wayne Petrone, Scott Leech.
The many congregations, organizations, and individuals who have given financially.
Companies that have made possible various donations from space to build the trailer, to supplies donated, to flooring material and installation, to discounts in needed supplies: Garland Transport, Moyer Marble and Tile Company, and Thompson Ace Hardware.
Second, we prayerfully set our long-term goal:
Our long-term goal is to send at least twelve crews, of at least four people per trip, over the next year, down to Grace, while building a network of Covenant Partners who will work with us.
Next Trip: March 5-10. Go for the full week, or take advantage of one of the short trip options – Sunday, March 5, return later in the day on March 8, or travel down on Thursday, March 9 – return on Sunday, March 12! Join Pat Sullivan and Jerry Althouse the week of March 5 in our continued disaster partnership with Grace Church. We realize that not everyone can make it an entire week, so we have arranged two partial-week options.
Interested? Contact Pat Sullivan @ lpsully@bellsouth.net, 904-318-7450 or Jerry Althouse @ jerryalthouse@gmail.com, 614-402-2972. More trip details for the future to come.
January 26 update:
Shower / Laundry Trailer Delivered! First MPC Crew in Cape Coral Handling Multiple Reconstruction Projects.
The shower/laundry trailer stopped off at MPC Sunday morning for folks to see, then was delivered to Grace United Methodist Church in Cape Coral. For a video tour of what the amazing construction looks like, check it out below. Thanks to the many men and women who made the construction and delivery possible!
Six covenant partners traveled down to Grace UMC on Sunday. Pat Sullivan, Jerry Althouse, Wayne Petrone, Doug Straatsma and Scott Leech are there now. Tom Hughes went down also to make sure the trailer set would go as planned. He returned Monday. The work crew has had quite a week – from reconstructing apartments that house single moms being ministered to help raise their children, to punch list work on trailers, to reconstructing the modular community we frequently speak about, these men are serving as the hands and feet of Jesus!
The trailer delivery and the trip are not the end of this mission effort – they are just the beginning! The Wall Street Journal reported this week that 30,000 homes were damaged by Hurricane Ian in the area and 5,000 more were completely destroyed. The typical post hurricane rental crisis is at hand in the impacted area – rents are rising and there is a lack of affordable housing. MPC will continue to work with various churches in the area to bring relief to the affected residents. Look for more info to come as we continue to support the needs of those rebuilding.
Praise God for the people of MPC, the various ECO churches, a foundation and a VFW Post, who all gave financially, and to the owners of Thompson Ace Hardware, who have provided discounted building materials. So many have given to generously to what God has called us to do.
Financial donations may be made on-line or through checks to Mandarin Presbyterian Church. If you are interested in learning more on how to be part of the MPC Disaster Recovery and Relief Team, contact Greg Cruice by email or call 904-576-6680.
Below is video of the completed trailer prior to its delivery to South Florida:
January 5 update:
Covenant Partners and friends of MPC are preparing to make trips to Cape Coral beginning on January 15 and 22. The team on the 15 will be led by Jerry Althouse, the team on the 22 will be led by Pat Sullivan. It is not too late to go! Teams will be working on rebuilding the inside of a modular home that was impacted by Hurricane Ian. Our friends at Grace UMC are hoping our teams can complete the project in the two week we are scheduled. Teams will leave on a Sunday and return on a Friday. Housing and food are provided by Grace. On the 22 shower trailer MPC has been building will be delivered and put in place at Grace, as well. Even if unable to stay down for the full week, please let Jerry and/or Pat know and we will do our best to accommodate your schedule. It is recommended that folks who cannot stay the entire week, work at least two days. For questions, more information on these particular trips, contact Jerry (614-402-2972, jerryalthouse@gmail.com), or Pat (904-318-7450, lpsully@bellsouth.net). Pray for the folks making the trip, those doing the ministry every day in disaster areas, and those still impacted by the storm.
First Baptist Church, St James City, Sheetrock in place!
Part of our effort in our supply chain ministry is to provide needed items for reconstruction. We were asked by the First Baptist Church of St James City, Florida if we would be able to provide them with the supplies to put the sheetrock walls of their sanctuary and buildings back after Hurricane Ian. The church took on over five feet of water. Here are some pictures of the walls being restored, made possible by the MPC efforts to be the body of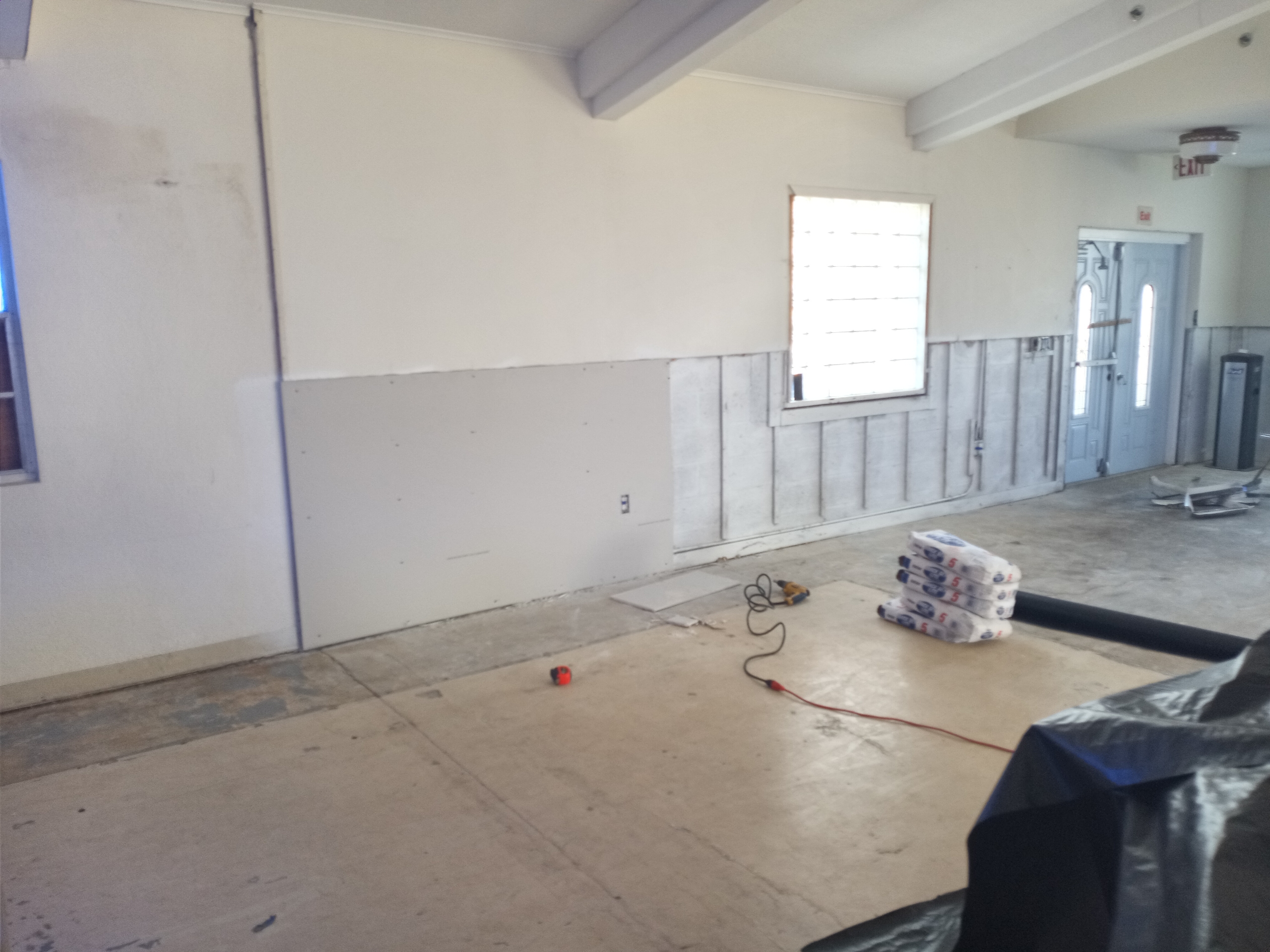 Christ!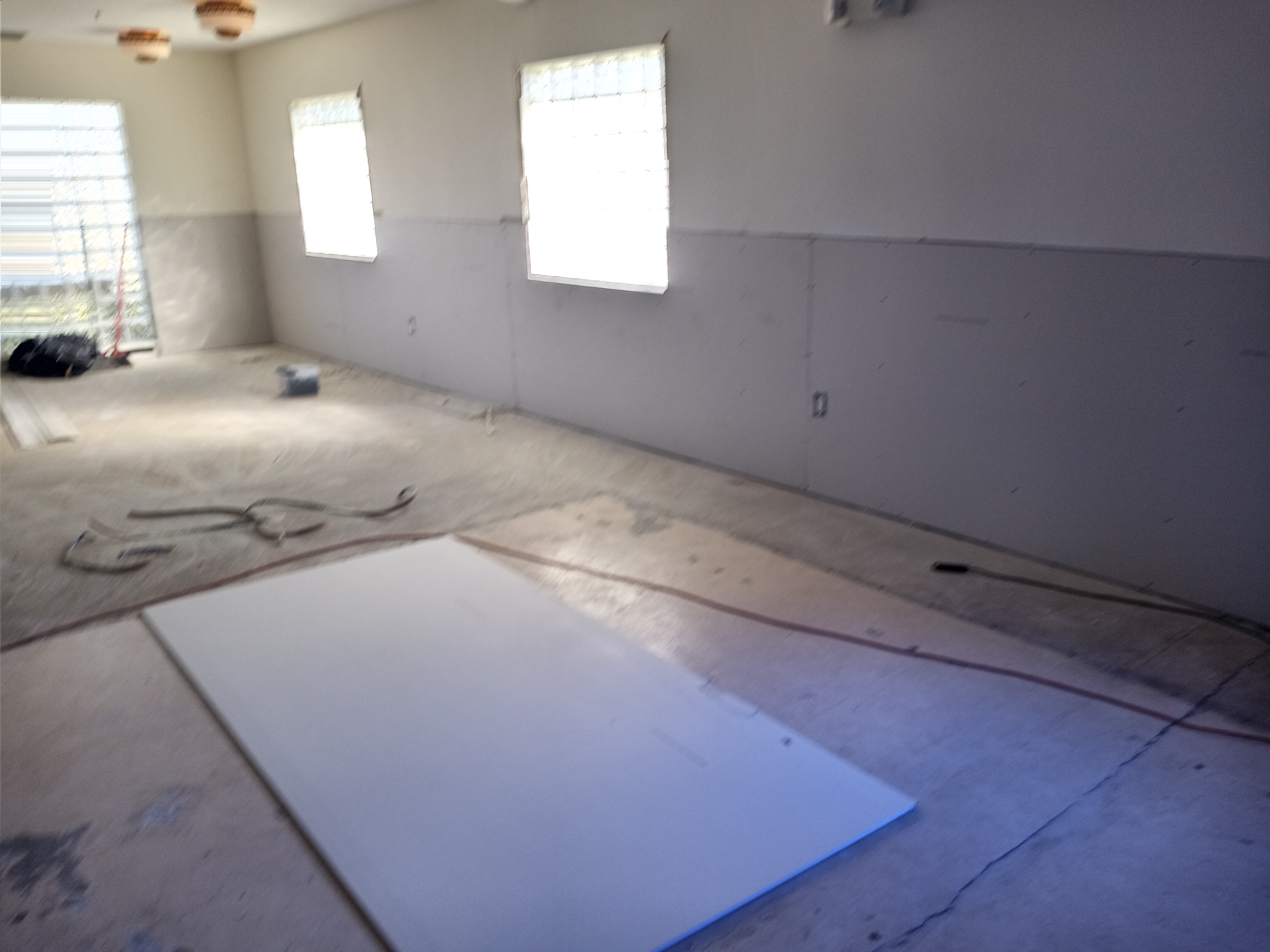 December 22:
God is amazing and has already blessed us with critical opportunities to act on our vision of a Disaster Recovery and Relief Team ministry, which the Session created just two months ago. We hope you'll be part of it!
At this very moment, our MPC team is providing critical support to some deeply committed South Florida Christian brothers and sisters, who are faithfully assisting Hurricane Ian victims. We have gotten to know these folks well and are blessed to have become an integral extension of their team. They are in it for the long-haul, and so are w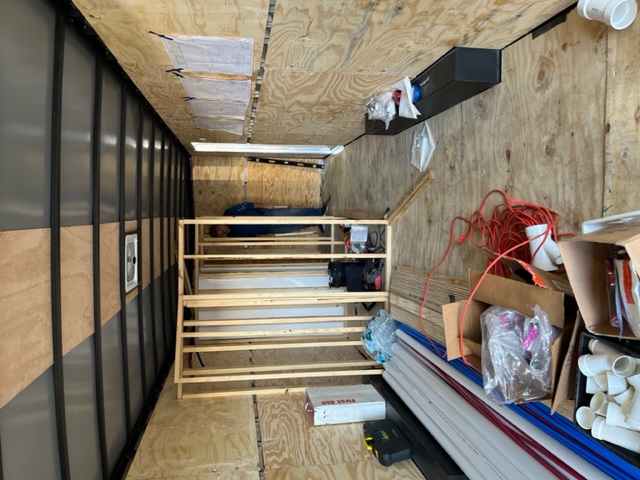 e.
Through the generosity of covenant partners and friends of MPC, and ECO congregations we've engaged from California, Georgia, South Carolina, and Colorado, close to $25,000 has been raised. It is being used, dollar-for-dollar, to rebuild homes and a church, and to begin construction of a shower and laundry trailer. The trailer will initially be used for the South Florida work crews, but eventually also be used for a homeless ministry and future disasters.
More broadly the MPC Disaster Recovery Relief Team vision includes three parts, all stemming from lessons learned from past disasters around the country:
To be become part of the supply chain for churches in their relief and recovery efforts.
To build shower and laundry trailers for churches that have relief visions or immediate crisis needs.
To send work crews if needed and possible, given the location and circumstances.
Here's and update and info on how you can help:
Supply Chain
From the beginning, our calling has included asking God to help us find churches that need help with crisis response.
In South Florida, we contacted our fellow ECO church, First Presbyterian Church of Punta Gorda, which thankfully responded that it is in good shape and encouraged us to keep looking. Very soon thereafter we were led to some other churches that where were very much impacted and in the thick of relief efforts. They are Grace United Methodist Church with a campus in Cape Coral, and First Baptist Church of St James City, Florida. Please pray for them!
At Grace UMC, the financial support of MPC people and our covenant partners has purchased needed rebuilding and decontamination supplies in an impoverished modular home community, which Grace had been ministering to even before Ian.
Even more recently, through connections that only God could arrange, we have provided materials needed to place walls back in place at the First Baptist Church of St. James City.
First Baptist initially served as the physical hub of FEMA and other recovery efforts in the area. However, the church itself had taken on over five feet of water, requiring that the walls of its education wing, nursery, offices, and sanctuary be gutted. We have become the supply chain for the sheetrock and the supplies needed to put the walls back.
Shower and Laundry Trailer
The shower and laundry trailer, complete with washers and dryers, was part of our vision from the beginning. We discovered that we could buy a new trailer and, with volunteers, outfit it to the need for about a third of the costs of one already built out. We have purchased the trailer and begin the outfitting. It will be delivered in January to Grace UMC. Interested in helping build the trailer? Contact Pat Sullivan: lpsully@bellsouth.net or 904-318-7450.
Work Crews
MPC will begin to send work crews to Cape Coral beginning in January. They will work alongside Grace UMC volunteers in the modular home community, where people continue to reside. A crew led by Jerry Althouse will leave on January 15 and return on the 19th. Another crew led by Pat Sullivan will leave on the 22nd and return on the 26th.

Skilled people are needed to rebuild the insides of these homes while unskilled folks clear out and gut the homes next in line. If anyone reading this is interested in either of the trips, please contact Greg Cruice @ 904-576-6680 or gregcruice@att.net.
How else to Help
In addition to anyone who would like to volunteer, financial support will be an essential and ongoing need. We are so grateful and overwhelmed by the beautiful offerings that have already been provided. Thank you so much, on behalf of those who have benefited.
With the service opportunities currently in front of us, including smaller but critical needs that have not been mentioned here, we need at least $20,000 in additional support. But we also have every reason to believe that there will be more needs ahead. As Floridians know well, recovery efforts go on long after we hear about them in the news. The MPC Disaster and Recovery team intends to be among the faithful followers of Christ who stay engaged till the job is done.
Donations can be made through Mandarin Presbyterian Church, with checks marked "Disaster Relief" or by giving on-line at mandarinpres.com/give (select "disaster fund.") Please call Greg Cruice at the number above if you have any questions.
"For they gave according to their means, of their own accord, begging us earnestly for the favor of taking part in the relief of the saints – and this, not as we expected, but they gave themselves to the Lord and then by the will of God to us."
II Corinthians 8:4-5 (ESV).
December 1 update:
The trailer is being brought to Jacksonville, today for build-out!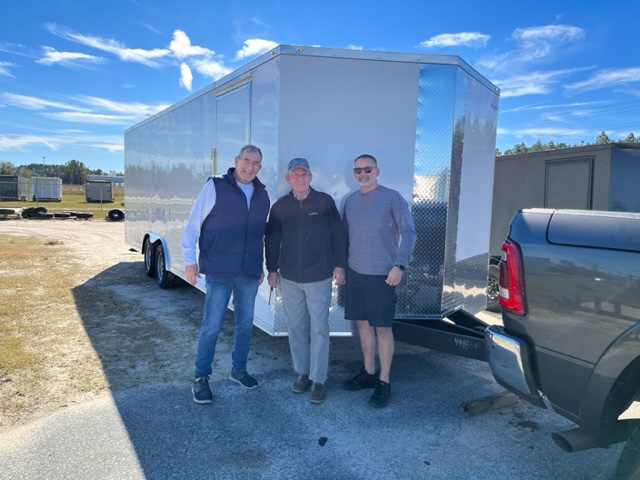 Pat Sullivan, Tom Hughes, and Charles "Duce" Garland picked up the trailer that MPC will use in the disaster efforts of Grace United Methodist in Cape Coral, FL. The trailer will be built out with four showers and two washers and dryers for use by relief workers who head to Cape Coral to work with Grace. After the reconstruction efforts are completed, the shower trailer will be used by Grace in their downtown ministry to the homeless community of Ft. Myers. Build-out will begin the week of December 5. If interested in helping with the buildout, contact Pat Sullivan at LPSULLY@bellsouth.net or 904-318-7450. Build-out is expected to take about 5 to 6 weeks, with the goal of trailer delivery on/about January 15.
Relief Trip to Cape Coral, January 15-20.
Mark your calendars and join us for the first MPC disaster relief trip! It is scheduled for January 15-20. The trip will involve both skilled and unskilled help. Crews will work on renovating modulars homes needing repair and those that need gutting to be repaired. Interested? Contact Greg Cruice @ gregcruice@att.net or 904-576-6680. We will be housed at Grace UMC.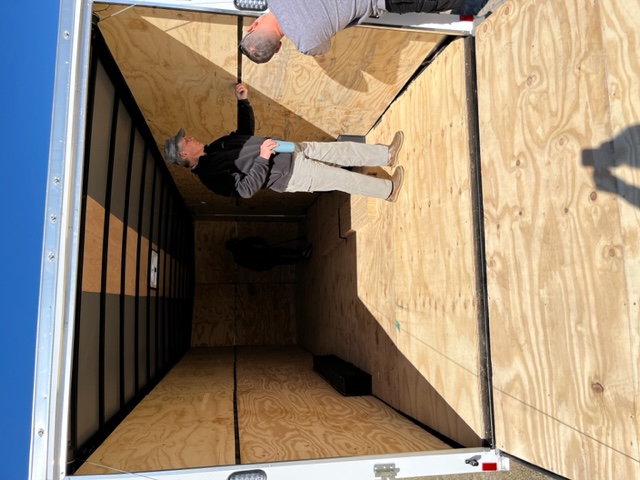 Thank you to those who have contributed thus far to the Hurricane Ian relief efforts. MPC has raised over $18,000, including generous offerings from covenant partners and amazing support from other congregations from Georgia and California. Congregations in Colorado and South Carolina have committed to financially support our efforts. Re-construction supplies valued at over $8,000 have been purchased. Thanks to the partnership with Thompson Ace Hardware (San Jose and Old St Augustine Road) we have been able to purchase supplies and have begun to purchase trailer construction needs at highly discounted prices. We have purchased the trailer that is being built out. Are we in need of support? Yes! The cost to build the trailer will be over $20,000. Join us in asking God to provide the needed financial resources needed to build the trailer out step by step, with no delays. If able to give, simply mark checks "Disaster Relief," give online, and/or visit the Alternative Christmas opportunities MPC is offering.
Financial donations may be made on-line or through checks to Mandarin Presbyterian Church. If you are interested in learning more on how to be part of the MPC Disaster Recovery and Relief Team, contact Greg Cruice by email or call 904-576-6680.
November 17 update:
We promised new info this week on Disaster Assistance! Here it is!
Trailer Construction Starting Week of December 5.
The construction of the shower trailer we will be building and then gifting to Grace UMC of Cape Coral will begin the week of December 5. That's right! Construction will be taking place at a warehouse in downtown Jacksonville. Do you have construction skills? Would you like to help by being an extra pair of hands by grabbing materials, and helping to hold things in place while the skilled folks finish the task? If so, please reach out to Pat Sullivan at lpsully@bellsouth.net. Let Pat know your interests and skills, and if there are certain days that work better for you than others.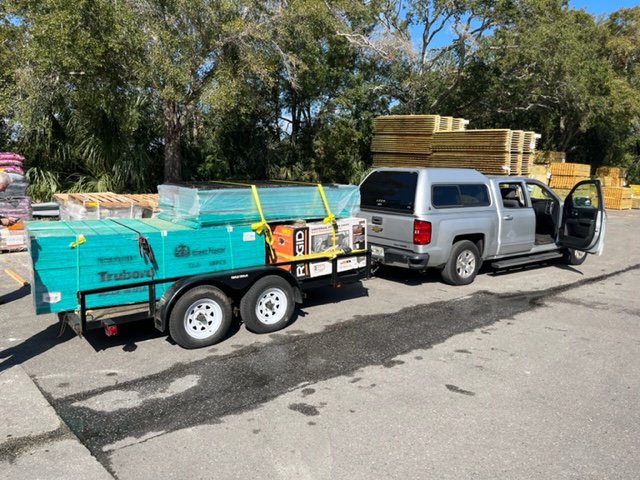 These small crews of 4 to 5 maximum will be working for about 6 weeks constructing and finishing the shower trailer. Someone will be needed each day to … you guessed it! Deliver the crew their daily bread. You will be given instructions on how best to feed them, deliver the lunch to the worksite, and get to see the trailer construction in action. This is the food coordination team. Let Iris Cruice know if you may be able to handle this hospitality need or are willing to help organize. Contact Iris at viriswood@bellsouth.net.
First mission trips to Cape Coral: December 5-10, January 15-20.
We would like to have the first adult mission team go to Cape Coral on December 5 after church and return on December 10. Our goal is to rebuild at least one unit with a crew of 4, while others clean out another modular home. Skilled crew needed for reconstruction, no experience needed for pull out! Food and lodging at Grace UMC are included. If interested, let Greg Cruice know. gregcruice@att.net, 904-576-6680. Can't make that trip? How about January 15 -20? We will be tentatively delivering the shower trailer, leaving after church, and working again through midday Friday, January 20. If interested or have questions, let Greg know.
How can I help financially?
The reality is, it takes funds to build shower trailers and to provide supplies. Constructing a trailer will cost about 1/3 as much as purchasing one would. We are being the hands and feet of Jesus and seeking to be good stewards of what God has given us. Any financial contributions would be great! Churches from Georgia, Colorado, South Carolina, and California have already committed to our efforts. A church in Georgia has dedicated its disaster collection to the MPC effort. A church in Colorado will be giving its Christmas concert proceeds to MPC's Disaster Fund. A church in South Carolina is taking a special collection throughout November to support what we are doing at MPC. God is blessing the Disaster Ministry. Feel free to give by check or cash and mark it as "Disaster Relief" or go to the MPC electronic giving site, find the "Disaster Relief" tab and share in the joy of giving! Thank you for your support!
November 9 update:
Last week we shared that four MPC covenant partners were headed to Cape Coral, Florida, and were meeting with the relief team at Grace United Methodist Church and visiting an area where Grace UMC is focusing its much-needed relief efforts.

Supplies valued at over $6,500 were provided to the Grace UMC relief efforts. The needs in Cape Coral and the Fort Myers areas have shifted from immediate items associated with hurricane help to the tear-out and reconstruction phase. Mandarin Presbyterian is seeking to be one of the supply channels for Grace UMC. The availability of supplies here, in Jacksonville, or along the way to Cape Coral/Ft Myers, is much greater than the high demand levels currently within the disaster areas.
The first shipment included 90 sheets of plywood, tool storage boxes, chemicals for mold remediation, gloves, respirators and replacement cartridges, sprayers, among other rebuild supplies. Included was a large shipment of basic food needs for the restocking of the Grace UMC depleted food pantry. Special thanks to the MPC Food Pantry for sharing some of the abundant peanut butter, jelly, and spaghetti sauce the Pantry had as a result of the Fall Festival food drive. Special thanks to Thompson Ace Hardware, (near San Jose and Old Saint Augustine Road) for making deep discounts available for the purchase of many of the items delivered.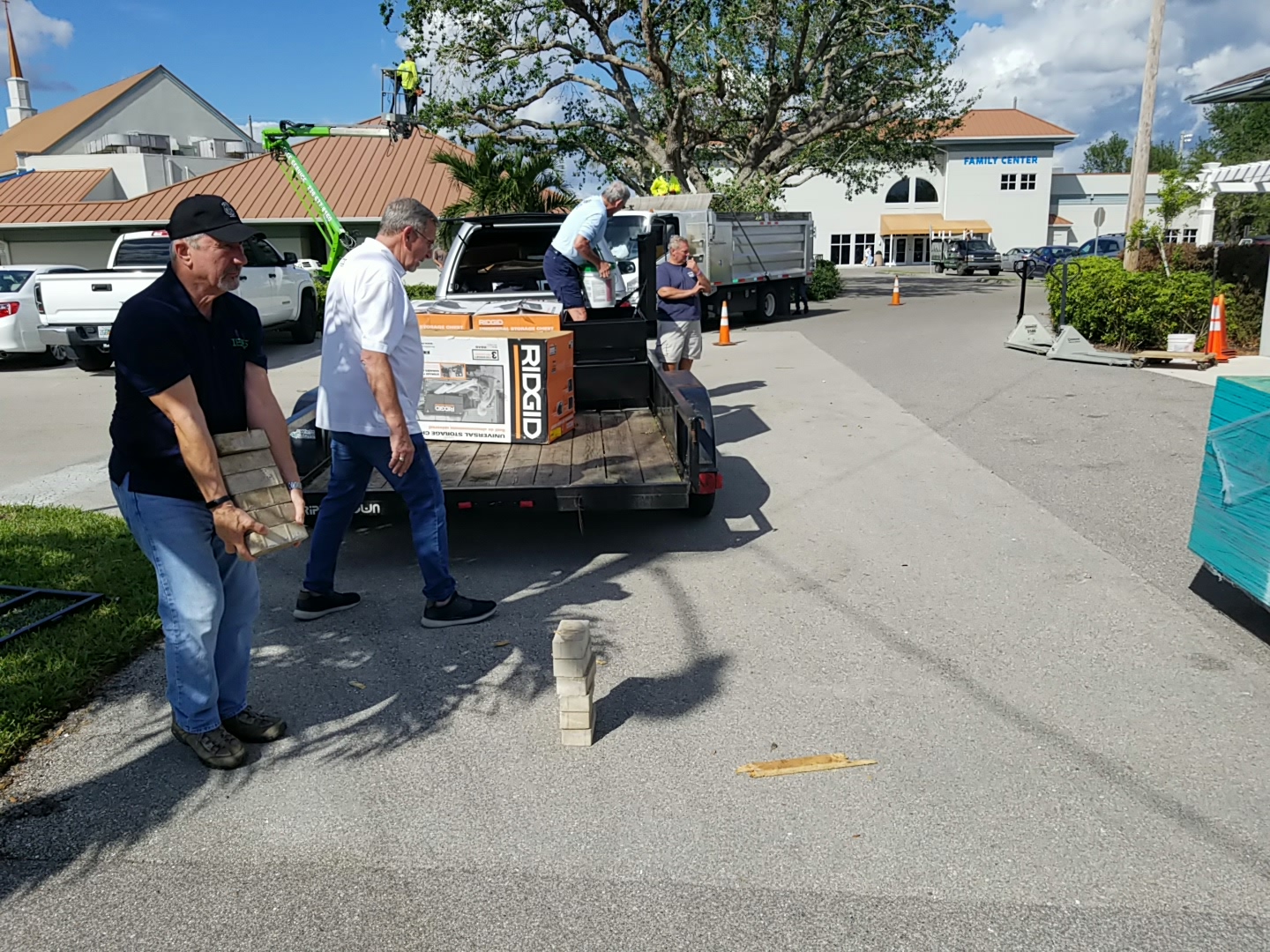 Beyond supplies, the trip also involved visiting the area where Grace UMC is focusing its relief efforts – a poorer area of Cape Coral where folks remain in modular homes that have been damaged and flooded by the storm. Grace already has a working ministry in the area and now seeks to help residents gut the interiors of the damaged homes and reconstruct them to more livable standards. MPC will be sending crews to the area to aid in the rebuild.
Relief efforts – a poorer area of Cape Coral where folks remain in modular homes that have been damaged and flooded by the storm. Grace already has a working ministry in the area and now seeks to help residents gut the interiors of the damaged homes and reconstruct them to more livable standards. MPC will be sending crews to the area to aid in the rebuild.
So, what now?
Since the visit, MPC has begun the process of procuring a manufactured work trailer that skilled volunteers from MPC will fabricate into a shower/washer/dryer trailer that will be gifted to Grace UMC. The trailer will be initially used to help with work crews staying at Grace UMC, and when the disaster recovery is completed, Grace UMC will then use the trailer for their work ministering to the homeless.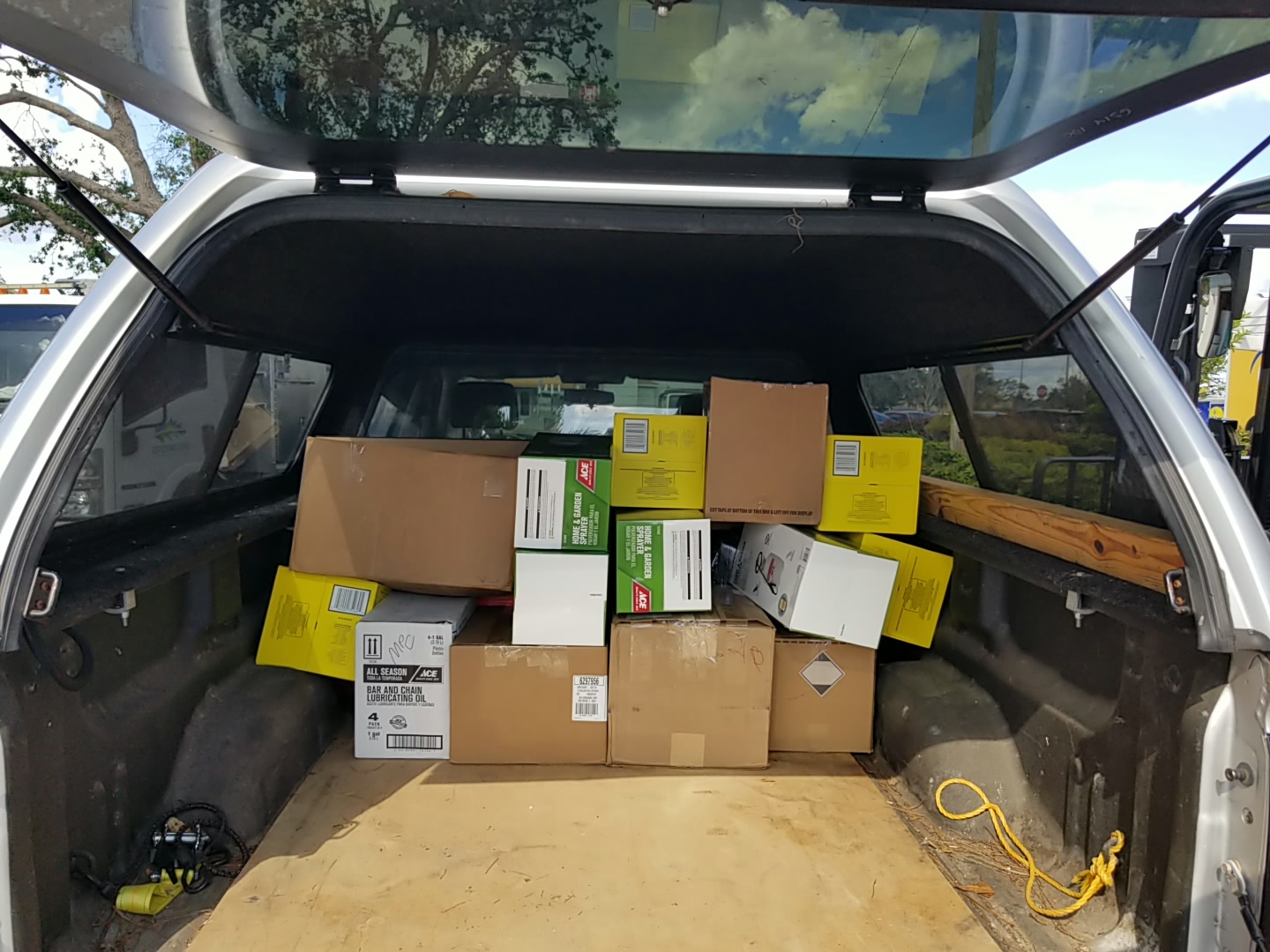 There are several advantages to building the trailer with servant-hearted sisters and brothers in Christ: a sense of being engaged in a Kingdom building activity that involves more than simply purchasing a trailer already built and, from a stewardship standpoint, building the trailer for less than 1/3 of the market price for a similar, new unit! We can build the trailer, thanks to the expertise and efforts of MPC volunteers, for $25 to $30,000! In essence, three or four trailers can be built for the price of one purchased unit.
We will continue to work on the supply chain needs of Grace UMC, while also seeking to help other churches taking a similar approach. Our goal is to identify communities of faith that are recognizing disaster needs within their local community that local churches can help address while building long-term relationships within the areas of ministry.
How can you help?
The MPC Disaster ministry will need the collective efforts of the body's time, talent, and treasures. Soon, volunteer opportunities will begin to be offered to the covenant partners and friends of MPC. Stay tuned for details that will be unfolding. Currently, if a special financial gift can be given to the Disaster Recovery Ministry of MPC it would be appreciated! Supplies and construction of the trailer require funding. Already ECO churches from Georgia, California, Colorado, and South Carolina have graciously committed to join us in our financial efforts to be certain we spread the light of Christ to the darkness of the disaster created by Hurricane Ian.
November 3rd -
The Session creation of an MPC Disaster Recovery and Relief Team was announced Sunday, October 30th, in worship. As the team is formed, the first opportunity for MPC to partner with a community of faith in the Hurricane Ian devastated area has already begun!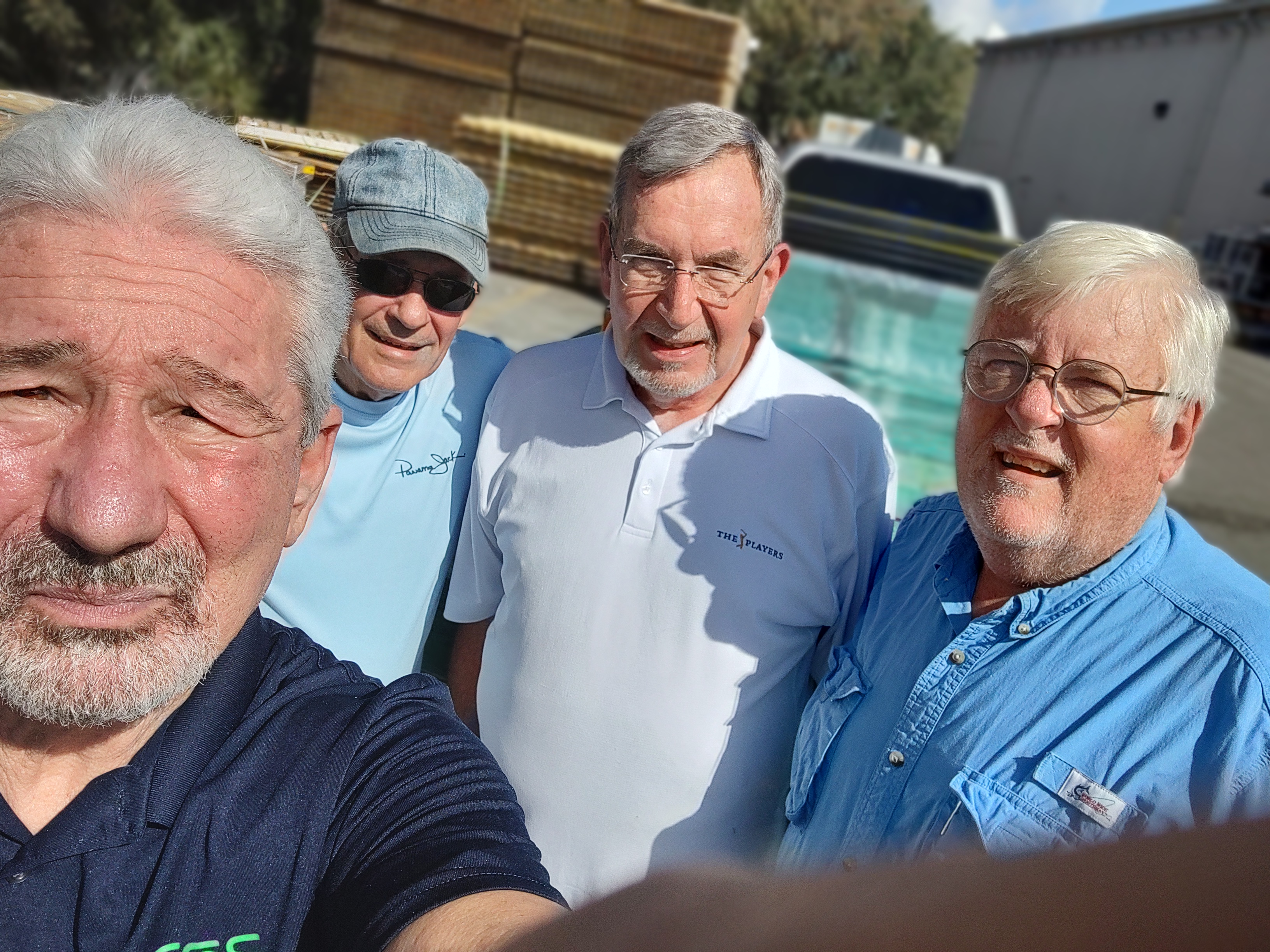 Pictured are Pat Sullivan, Tom Hughes, Jerry Althouse, and Greg Cruice, today, November 30th, as they begin the MPC relief effort by bringing construction supplies and needed food items to the Grace United Methodist Church in Cape Coral, Florida.
Grace UMC is the first of what will hopefully be many MPC relief partners.

Today's trip included such items as respirators for use in the cleanup and restoration efforts, plywood, mold controlling chemicals, supply chests for tool storage on the job-sites, and other supply needs. Food items included jars of peanut butter, jelly, cans of spaghetti sauce and chili. Special thanks to all who have contributed so far and to the MPC Food Pantry who provided some of the food supplies. The crew will also be visiting an area where Grace UMC is repairing and rebuilding over 100 modular homes that were devastated by the storm.

Stay tuned for how we, as Mandarin Presbyterian, will continue to offer supply chain needs, building a shower trailer for Grace UMC so they can host more relief workers, and send crews to partner in Grace's efforts to rebuild the modular home community.

Financial donations may be made on-line or through checks to Mandarin Presbyterian Church. If you are interested in learning more on how to be part of the MPC Disaster Recovery and Relief Team, contact Greg Cruice by email or call 904-576-6680.